Relaunch of the RSS feed for the benefit of creators and managers of newsletters by e-mail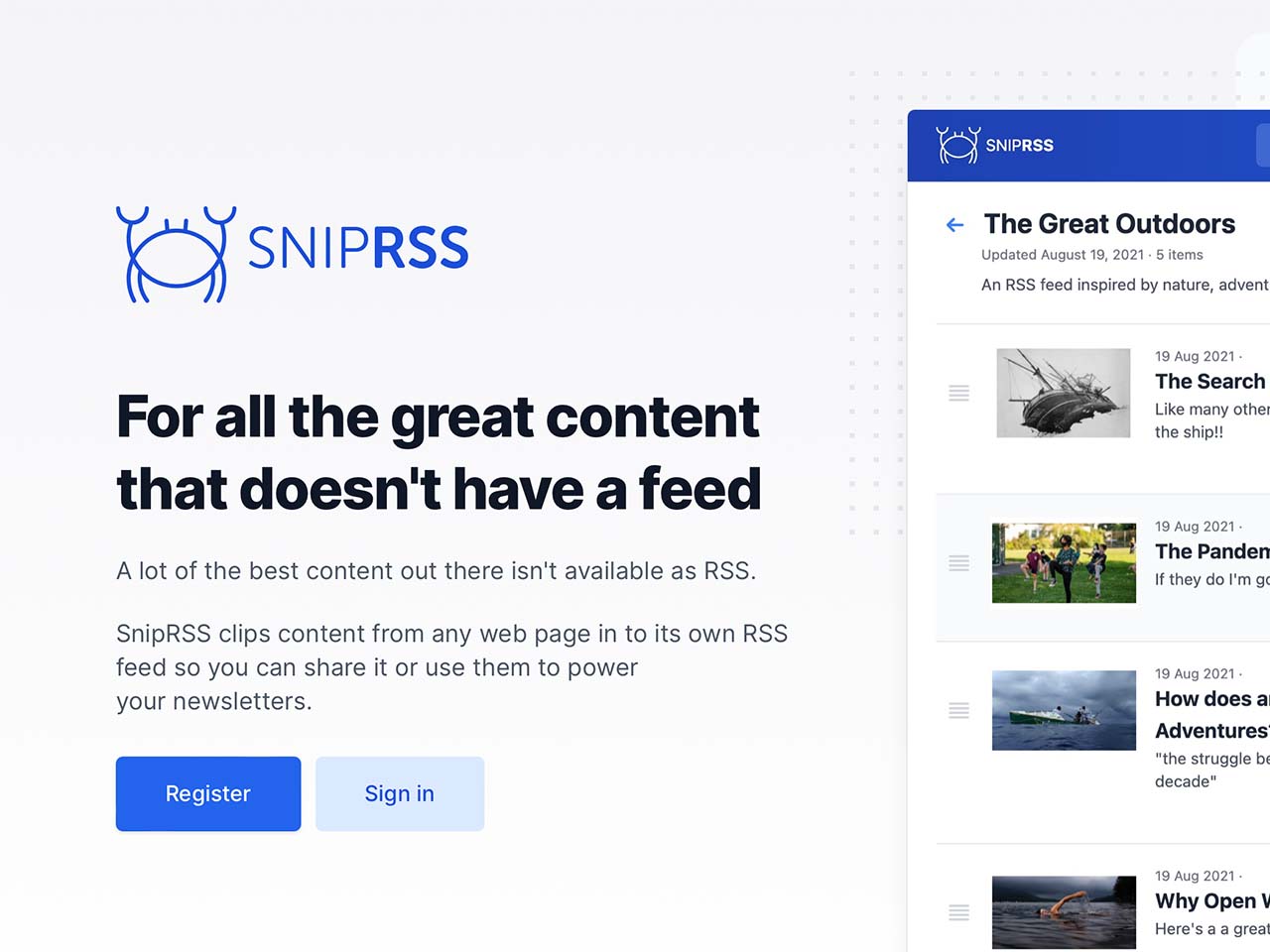 Keeping and sending newsletters is a time-consuming operation for many owners and managers. A new RSS solution, from the founders of
FlipRSS
aims to simplify the process of collecting and sharing content with subscribers.
A single click while visiting a web page captures the title, description, image and link of the viewed content and stores it in a branded personalized RSS feed. The ability to capture content from any channel – whether it's on YouTube, a relevant Tweet or thread, an inspirational article, an image or anything else you can find online – allows
SnipRSS
users to create rich and engaging feeds that can produce engaging automated newsletters. Alternatively, they can be shared directly with followers.
RSS
(Really Simple Syndication) is an Internet standard developed to provide computer-readable updates to online content. They are frequently used by blogs and podcasts to syndicate the latest content to subscribers, third-party systems, newsletters and more. To avoid having to frequently check favorite websites for new content, RSS offers the option for site users to subscribe and be notified of new content when it is published by the author. It makes content portable, shareable, and open, so it's an ideal format for publishers and content producers or curators.
Content can be edited at capture point or in the SnipRSS platform to allow for custom content titles and descriptions – ready to share. Captured content can be edited, rearranged and deleted to give full control over what is shared with subscribers and visitors.
SnipRSS was developed by the founders of FlipRSS, a tool that enables multiple RSS feed newsletters that are not only automated but personalized to individual subscriber preferences. Speaking on the launch of the new tool, Founder and Lead Developer Andrew Gleave commented, "We're focused on helping newsletter creators increase subscriber engagement and deliver more value while saving time in the process. SnipRSS embodies this philosophy and makes it quick and efficient to collect content, from YouTube videos to Tweets. Storing this content as RSS feeds gives creators the ability to automate their newsletters using RSS-to-email functionality common to most major email service providers.
On SnipRSS's compatibility with other newsletter solutions, Andrew added,
"The beauty of SnipRSS is that it can be used as a standalone product or to complement other email platforms in delivering RSS to email newsletter campaigns. In most cases, this gives owners or newsletter teams the flexibility to improve their workflow and efficiency without having to switch email service providers and without incurring significant costs.
The service is extremely cost effective, with all tiers offering unlimited RSS feeds. Trying out the service is simple and requires no commitment via a lifetime free plan, limited to 50 messages. Paid tiers start at just £18 per year – just £1.50 per month.