Email Marketing and Marketing Automation: The Differences Explained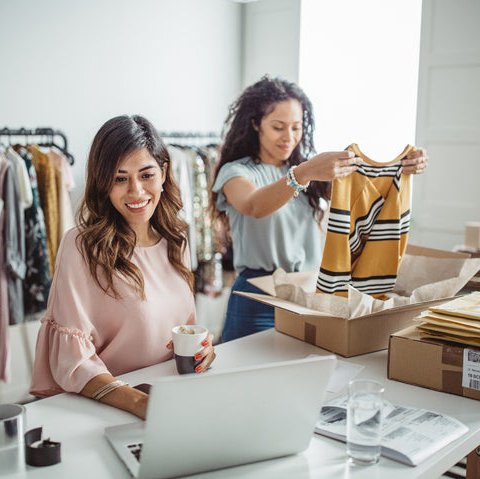 The business world is full of jargon, and we're here to help you understand what people are talking about. Worry no more about the differences between email marketing and marketing automation.
Are you confused about the difference between email marketing and marketing automation? This is not surprising since there is a lot of conflicting information out there.
Some people define email marketing as the ability to send content and track the success of your email campaigns. Some industry experts have even coined the term "email marketing automation" as a sort of halfway house between the two concepts.
You can also choose software that combines email marketing and marketing automation functionality, while some solutions offer full email marketing functionality with a bit of marketing automation. Yes, we're not surprised you're confused.
There is an overlap, but this comparison between email marketing and marketing automation aims to demystify the subject.
The 5 main differences between email marketing and marketing automation:
Complexity
sales cycle
B2B versus B2C
Assets
Behavior tracking
1. Complexity
If you're a small business with a limited marketing budget and resources, you're unlikely to want to create complex marketing campaigns. And you don't have to.
As long as you understand your customers, create personalized content that matches your customer profiles, and track your efforts, you can run highly effective email marketing campaigns.
Marketing automation campaigns are much more complex than email marketing campaigns, as they encompass a multitude of channels and techniques. To succeed, you must manage all the moving parts at once.
Marketing automation can drive better results, but it's only worth it if you have the time, skills, and money to put in to do it right.
If you're just starting out, you probably have a small marketing team. If they can't track customer behavior across all channels and get insights from that behavior to optimize campaigns, you should stick with email marketing.
It's better to create personalized campaigns that give customers the information they need while being useful and interesting, rather than trying to do too much at once.
2. Sales cycle
The way you market toothbrushes is radically different from the way you market televisions. While a toothbrush is often an impulse buy and you will buy many of them in your lifetime, it takes a lot longer to decide whether to buy a TV. The sales cycle for different products varies and each requires a different approach.
If you're selling big-ticket items like a TV, you need to spend more time nurturing customers through the buyer's funnel.
Marketing automation is better suited for those longer sales cycles where customers will interact with your business through multiple touchpoints. Customers need more information and more time to think about it.
Email marketing is great for quick and easy decisions and lower value products because customers can get all the information they need from a quick email. They can also pick up your emails while waiting in line at the grocery store and decide to buy your product there.
Take this email from skincare brand Paula's Choice. It contains a 20% discount code for one day only, as customers often make impulsive purchasing decisions in this industry. This is why email marketing works for lower value items.
This would only work for higher value items if you had already interacted with the customer across multiple channels and established some sort of relationship.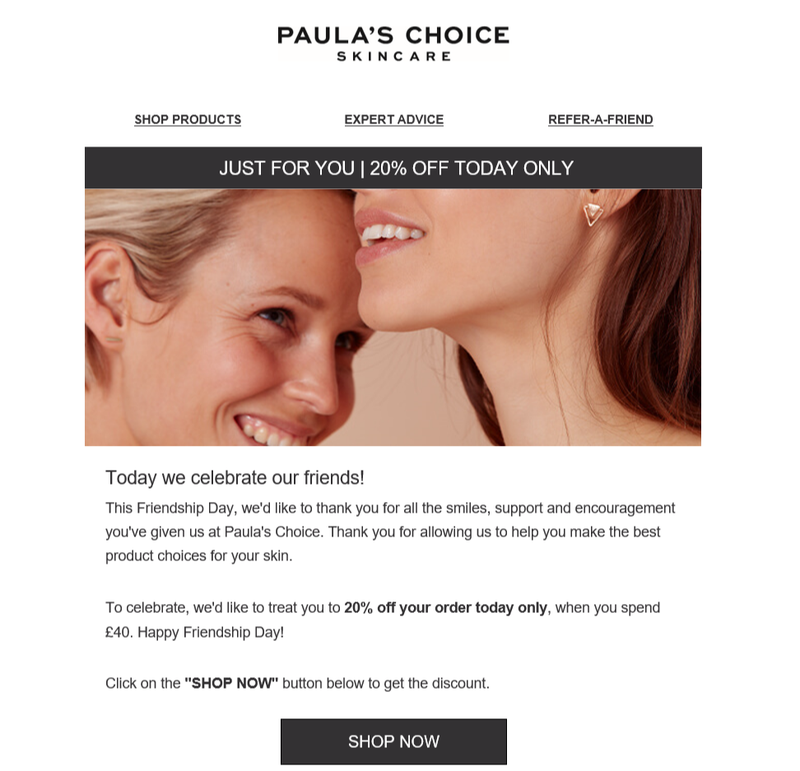 3. B2B vs. B2C Capabilities
Marketing automation is not only suitable for the longer sales cycles you typically see in B2B companies, but it also works best for companies that have dedicated sales teams.
As a marketer working for a B2C company, you are often the one selling to customers. You interact with prospects in limited ways, such as emails. You encourage them to buy your product by directing them to your website or store to close the sale.
Although you may have interactions with the customer, you often won't be directly involved in making the sale. Email marketing is an easy way to get the information in front of the customer in a way that makes a purchase easier.
You aren't limited to newsletters and transactional emails these days. Instead, modern email marketing systems help you create all kinds of different email content, such as:
Customer reviews
Cart Abandonment Emails
Flash Sale Messages
Loyalty offers
B2B companies have sales teams that often deal with multiple touchpoints. B2B salespeople will normally interact with prospects multiple times throughout the sales cycle before the prospect cools down or they close the sale.
That's a lot to track, which is why they need a marketing automation system.
4. Assets
When you create and manage email campaigns, you only have to worry about the content of each email, whether it's marketing email writing, graphics considerations, or other interactive elements, as well as a registration page. to help you build your list.
With marketing automation, you need to create and manage landing pages, social media posts and images, and even ad campaigns and assets. It requires a lot more time, as well as very advanced content, graphic design, and technical skills.
Marketing automation lets you interact with customers in more ways and more places, but you need time to ensure that every element reflects your brand image, is error-free, and works flawlessly. a technical point of view.
5. Behavior Tracking
Email marketing tracks the performance of your email campaigns. It provides insight into what makes a campaign successful and what you need to do to improve poorly performing campaigns.
And while you can personalize content based on things like what type of email a recipient has opened, you have no idea what other touchpoints they may have with your business.
But a customer's journey to product purchase rarely involves a single channel, and it's not linear. Marketing automation systems help you track customer behavior across multiple channels and design targeted campaigns based on that information, such as customer preferred channels.
These include your website, social media channels, in-store systems such as iPads, and any advertisements you serve.
The Lookfantastic e-commerce marketplace pushes notifications to customers in the channels they use the most based on their past interactions and behavior which in this case is SMS.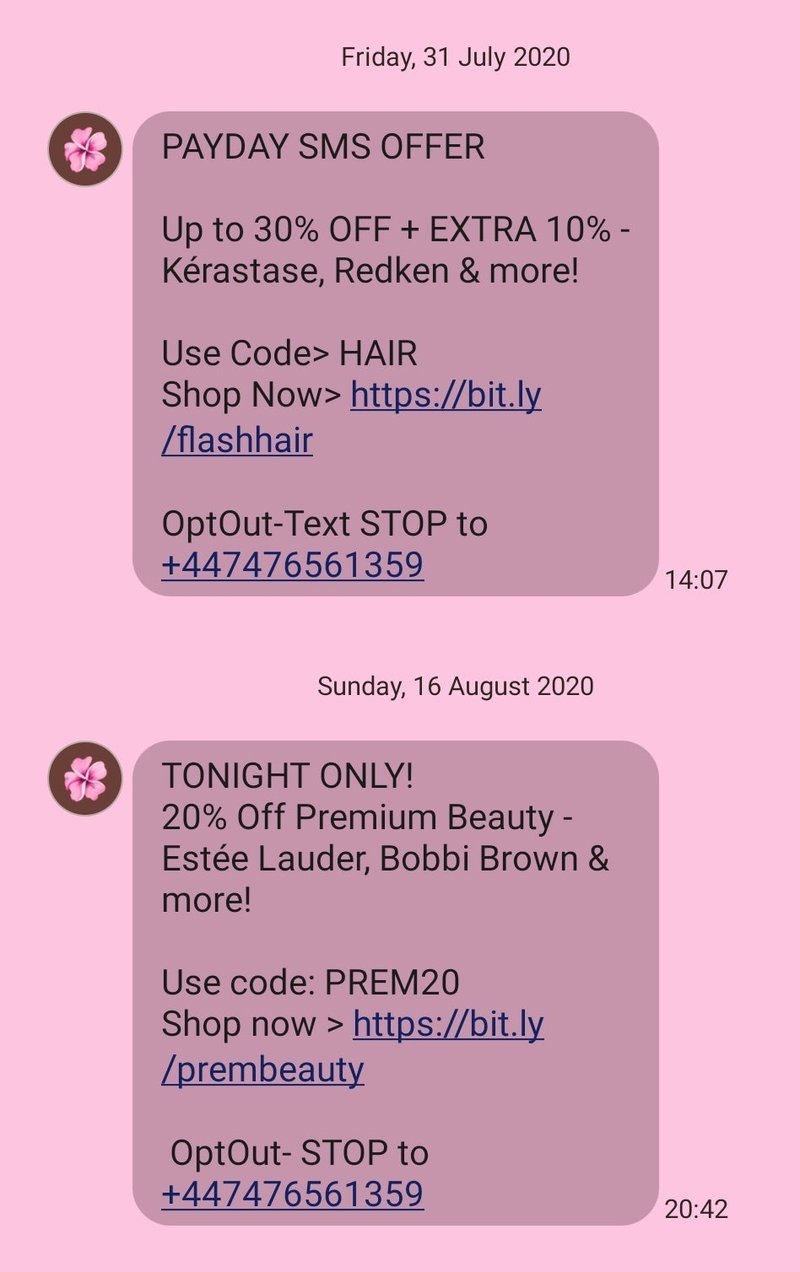 You can also use marketing automation tools to automatically trigger emails or other marketing messages based on certain behaviors. For example, if a customer just purchased an item, you can send an SMS with a customer survey.
Choose the tool that's right for your business
Email marketing and marketing automation systems come in all shapes and sizes, from a simple email outreach tool to a full-fledged marketing automation platform that can help your company to manage multi-million dollar marketing campaigns.
You can focus exclusively on email marketing, using a tool that helps you create automated email campaigns. Or you can use your email marketing solution in conjunction with other marketing software, such as an ad management platform and social media marketing tool.
You can also choose an email-based customer relationship management solution that helps you get to know your customers better. Alternatively, you can select a system that does it all.
When deciding, you need to consider the unique needs of your business. Here are some questions to consider when choosing a solution:
What is my budget?
How much time can I spend creating marketing campaigns?
What are my marketing goals?
What is my marketing team's experience with marketing automation and email marketing systems?
How long are my company's sales cycles?
What channels do I want to use to market to my customers?
What must-have features do I need from this system?
Once you've thought about the answers to these questions, you can begin your search for a solution. Check out our independent, in-depth reviews of marketing automation and email marketing solutions to help narrow down your options.