4 Ways to Use Video in Your Email Marketing Campaigns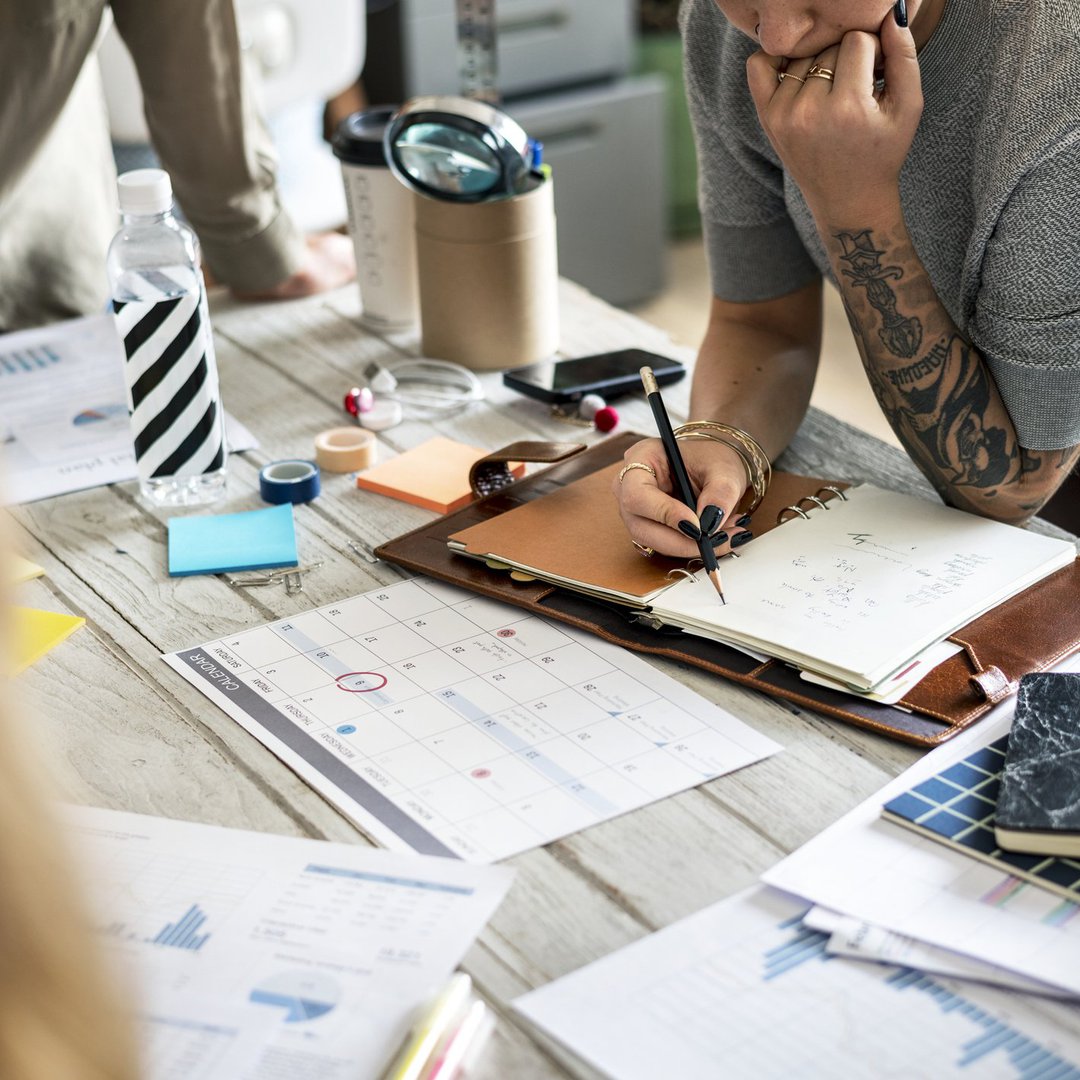 Learn how to use video email marketing to increase open and click-through rates and boost conversions in this quick guide for small businesses.
Online video consumption is exploding. Nearly 5 billion videos are watched on YouTube every day, while more than half of US consumers watch online videos daily. Of course, a lot of that includes people watching baby shark and cat videos on repeat, but these stats underscore the importance of video as a marketing tool.
Including a video in an email can lead to a 6% increase in your open rate.
Video email marketing can seem intimidating when you've never done it before, but it doesn't have to be. Below, we'll explain why you should add videos to your emails and best practices to ensure it improves your email marketing campaigns.
3 benefits of adding video to your email marketing strategy
Using video in emails is a great way to increase your marketing conversions. Here's how it can help you get the results you want from your email marketing strategy.
1. Connect with customers on a personal level
Sometimes text and images can seem impersonal, and they don't always resonate with customers. Imagine the difference between sending a message from your CEO via video versus a written message.
Customers can see the leader's personality, hear their tone of voice and how they emphasize certain words, and see the gestures they use. Sometimes the written words can seem inauthentic, but with video, there's nowhere to hide.
It's the difference between connecting with a human and a business.
The Running Channel shares weekly videos created by and featuring its trainers. This means you can get to know each one on a more personal level, rather than being just a name in an email. You're also more likely to trust their advice when you've seen them practice what they preach.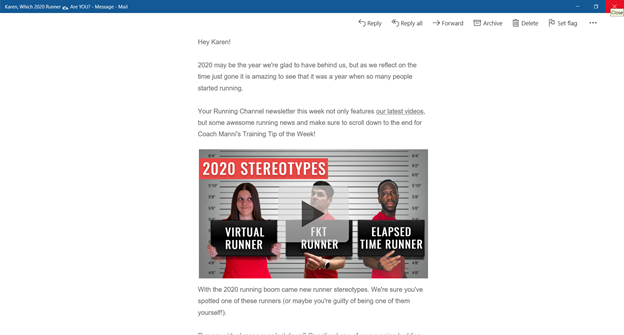 2. Tell a better story
As a writer, I firmly believe in the importance of words in telling a story. Words have such power, but sometimes a message can be conveyed better in a different way.
For example, you can use a video to tell the story of your brand and how it came to be. Or you can film a video of a company party to show what your culture is like (this can also help attract talent).
3. Showcase your products
When the COVID-19 pandemic hit, realtors went into a tailspin. How could they safely show people apartments and houses, ensuring the safety of owners, people visiting the property and themselves? People still need to move, even when it feels like the world is ending.
Get up video tour. Instead of sharing static photos, real estate agents created full videos of the properties they had for sale and for rent. For some people, these videos were enough to decide, as they fully showed the positive and negative qualities of the properties.
If you include videos in your emails, your customers can get a 360-degree view of your product and better decide if it's right for them. You're also less likely to get returns as customers make more informed decisions.
4 tips for using video in your email marketing campaigns
Now you know why you should use video in your email marketing, but do you know how to implement it? Check out our top tips on running video email marketing campaigns below.
1. Think about hosting and streaming
You may not embed videos from YouTube or Vimeo in your email and allow users to stream them from those sites; you have to host them yourself. This means you need the original file.
Your video should also have a manageable file size; ideally, it should be less than 1MB. Otherwise, it might be marked as spam or not reach your recipients' inboxes. In the email, you can include a static image from the video, which users click to play, or you can use a GIF from the video.
You also need to think about the cost and bandwidth needed if all of your subscribers are streaming the video simultaneously.
2. Be brief
No one will watch a 30 minute video, even if it's an extended version of Baby Shark or a cute piano cat playing Mozart. The rule of thumb is to keep videos under two minutes.
You can sometimes break this rule if you already have highly engaged followers and want to provide an in-depth explanation that you can't fit into two minutes.
3. Create a Video Email Template
Rather than reinventing the wheel every time you send a video in an email, create a template that you can use every time you start a new email. Check to see if your email marketing software already has templates specifically for video, or if it can help you create one using its drag-and-drop editor.
Mailerlite lets you quickly add video to its email templates using its drag-and-drop editor.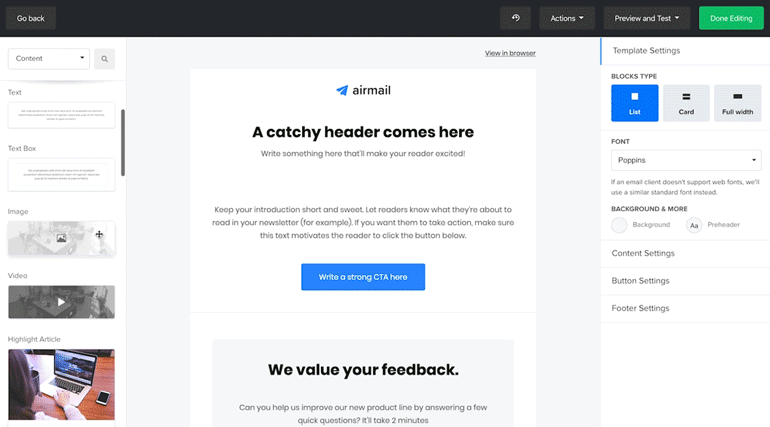 4. Track the success of your campaigns
Your business is unique, and so are your customers. Despite the popularity of YouTube and the rise in video viewing, video email marketing may not work for your business. Don't just assume it will succeed, follow up every email you send with a video.
Track views and clicks. A/B test your emails — one version includes a video and the other doesn't. Use an email marketing solution with heat mapping functionality, so you can see where readers are engaging and what parts of your email they're skipping.
VerticalResponse helps you understand if your videos are resonating with your customers with its heatmap feature. You can see a visual representation of where subscribers click on individual emails and over time. It can also help you decide on the best location for your videos.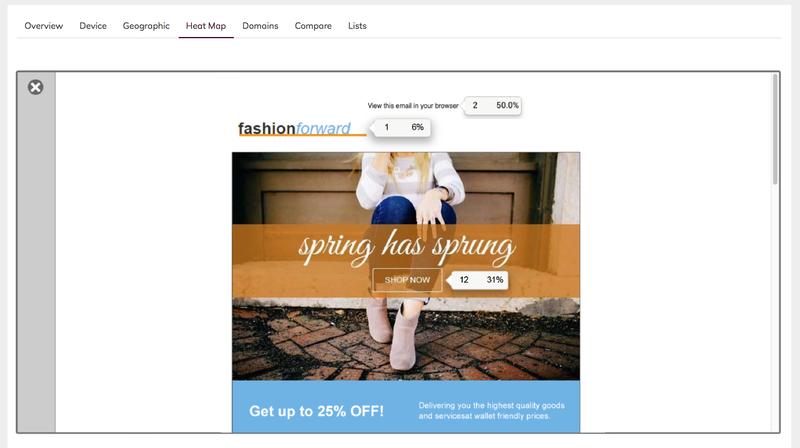 Don't rely on video alone
Videos are a popular and effective way to interact with customers, but that doesn't mean you should only send video emails anymore. Your readers want variety; they want you to mix things up and continually innovate. After all, what works now might not work six months from now.
Don't put all your eggs in one basket. Instead, send GIFs, text, and images. Make some long emails and some really short ones. Just try using text. And be sure to stay on top of the latest email marketing trends, especially those relevant to your industry, size, and type of business.